Elements of Crime
About the Novel
The Dark Tale of Dragon Ripper Comes to Life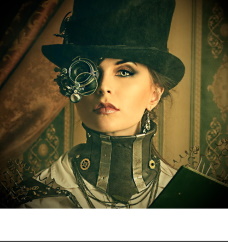 Astraia Holmes, sister of Sherlock, is baffled by a series of brutal murders committed by a dragon-like assailant, and desperately wishing to impress her brother and solve the crimes she teams up with a mysterious and brilliant young woman, Madeleine Barquist. Sherlock suspects an ancient evil at work, and he fears for Astraia's safety. The signs point to a Chinese Dragon God Cult known as the Ya Zi, a warrior society originally formed two thousand years ago to assassinate enemies of the Emperor.

Astraia is exultant to finally have a chance to use her deduction skills, but Miss Barquist is fearful to meet the eye of Sherlock Holmes—for unknown to both Astraia and Sherlock, she is the daughter of Jack the Ripper. Meanwhile, an ancient evil is gathering its forces and preparing to strike.
An Ardent Fan Says:
Madeline Barquist and Astraia Holmes prove the Rizzoli and Isles of Victorian England in THE DETECTIVISTS first book, Dragon Ripper. A dark and illuminating page-turner worthy of Anne Perry.


- Paula Munier


Author of A Borrowing of Bones.
Another Fan Says:
Jack the Ripper's daughter allies with the sister of Sherlock to solve the goriest of crimes in Victorian London while hiding her own dark secret. Readers will clamor for more.


- Hallie Ephron


NY Times Bestselling Author
---
A Prose Portion of "Dragon Ripper"

Daintily, almost like a spirit, she glided beyond the frightening calligraphy to stand before the brick wall of Mr. Wu's building. Raising her lantern to the structure, she pointed her magnifying glass toward a section near the door. "What do you see here?" she asked, holding her glass implement to the wall as aid to my inspection.


I followed her, not half so ethereal. I have always been a clodhopper of a girl. I stared through the lens at the wall.


"The brick has been gouged," I said, removing a glove to lightly run a finger along a furrow incised into the masonry.


"You see there are three grooves, in fact, each almost a foot in length, separated by approximately three inches at the left end of the gouge and closer to five inches distance from each other at the right end," she said. "Do you have any theories about what could have created them?"


"I have no idea," I said, moving my finger over the lowest furrow, carved perhaps a half-inch deep into the brick. "But I don't believe I saw them when I was here last week."


"No, I don't expect you did," she said. "These gouges are fresh. You can see the brick dust from them on the ground, still unspoilt by the alleyway filth."


I lowered my own lantern to examine the ground, and saw that she was right. "What type of instrument was used to make such delineations?" I asked. "A knife or sword?"


"No normal man could have made such deep indentations using any blade of which I'm aware," she said. "Whatever did this was incredibly powerful. The more pertinent question, I believe, is why were these cuts made at all?"


I looked around the scene. At the blood splashed all over the ground. "No, the more pertinent question is: what terrible event occurred here?" "A woman was slaughtered here last night," she said. "The police were just leaving when I happened by."


I began to shake. I gripped the wall, my fingers clasping tightly into two of the furrows lest I swoon. "Do they know who did it?"


She shrugged. "The police believe it was Jack the Ripper."